Riley Kennedy
March 28, 2021
In 2001, the story began.
Only one year out of college, Chuck Wilbur took the job as the men's head lacrosse coach at Onondaga Community College (OCC).
At the time, Wilbur was selling lacrosse apparel for a company.
He heard OCC was starting a lacrosse program that year. The coach who was recently hired for the job, called Wilbur and asked if he wanted to teach the attackmen a couple things at their practice. A week later, the same coach who was recently hired, took a job at the State University of New York College at Oneonta.
Wilbur called his friend, Mike Villano, and asked if he wanted to coach with him.
"I guess the rest is history after that," said Villano.
Lacrosse was always in Wilbur's blood. As a kid, Wilbur played every sport and was found playing lacrosse down at the Onondaga Reservation with his father's friends. There he learned how to play, and grow his toughness.
After high school, Wilbur attended Herkimer Community College to play lacrosse. As a freshman, he tried out for the team and bonded with one person in particular who ended up being his lifelong friend, Mike Villano.
After playing for the Generals, Wilbur and Villano looked to transfer for their lacrosse careers. The two somehow decided to attend Hobart College together.
The bond between them grew, and is what led them to coaching together.
Former OCC athletic director, Bob McKenny, took a chance on two young adults right out of college.
"It was pretty courageous on his part, two kids who were 22 or 23-years-old to take over a college program straight out of college" said Villano. "It was a good opportunity."
The building process wasn't easy. Some of the athletes Wilbur and Villano were going to coach were the same age as them. They first had to gain the respect from their players and their parents.
"These parents were dropping these kids off and putting their kids in our hands and trusting us," Villano said.
In 2005, the program took off. OCC beat Herkimer Community College in the regular season, and became the new "King" of the region.
One year later in 2006, the OCC Lazers won their first national championship in school history defeating Suffolk County Community College, 30-6.
One player emerged from the 2006 squad. Nick Gatto, was a first team 2006 NJCAA Men's Lacrosse All-American and National Offensive Player of the Year that season. He transferred to Le Moyne College where he spent two seasons, and again was named an All-American in 2008.
Wilbur and Gatto remained in contact after Gatto transferred to Le Moyne. Wilbur knew Gatto wanted to coach at some point in his career.
In 2008, Wilbur made the phone call, the day after Gatto finished his season at Le Moyne.
"So you want to do this," Wilbur said.
Gatto had no idea Wilbur was serious about the offer. They ended up meeting in his office, and it ended up lasting 12 years.
"The behind the scenes was so different, I could have never imagined it, I got to see a different side of Wilbur and Villano," Gatto said.
Gatto says the work Wilbur and Villano put in was unmatched compared to anyone else.
"The team building and the bonding aspect was like wow, this is where the success came from."
Every year a new team was formed at OCC. There were no senior leaders, it was freshman and sophomores. Every team had to write their own story. Wilbur held a pre-season meeting every year and he would first address the sophomores.
"You guys won last year but look, that was the sophomore's championship, now this one needs to be yours. You guys need to write a legacy."
Every year the sophomores listened. From 2009-2015, Wilbur won seven straight national championships. The Lazers won 107 straight games, the longest winning streak in college lacrosse history.
Wilbur compiled a 266-15 record, 11 national championships, seven NJCAA Lacrosse Coaches Association National Coach of the Year awards, and the Charles "Chuck" R. Wilbur Field at Lazer Stadium which is named in his honor.
To Wilbur it's more than just lacrosse.
"All the kids that have gone through here, and made it out of here, is what it's always been about for me," Wilbur said. "My favorite part of the whole job was helping kids fulfill dreams, and moving them on, and giving them second chances at life."
If you ask anyone that's how they would describe Wilbur. His connections with his athletes are unmatched.
"We had kids from all over the country, these are personalities that are 100% different in every way. These are kids that personality wise, should not gel together, and they do because of him [Wilbur], because of his ability to connect, his ability to get across what a common goal is," Gatto said.
Any player that played for Wilbur and Villano knew they could talk to them whenever they needed help.
"We had an open door policy, they could speak their mind, and have an opinion about something," Villano said.
Building relationships with their players was the biggest step for success.
Wilbur trusted not only his players but his coaches as well. Wilbur built a coaching staff of multiple personalities. He knew he needed everyone of his coaches to win and build a family.
The dynasty however ended in 2018, but with one end comes a new beginning. Family is one of the most important aspects in Wilbur's life. Wilbur has three kids and his wife Laura.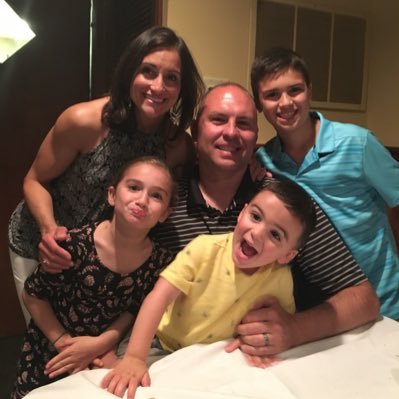 "I didn't want the biggest part of their lives not being a part of it and supporting them" Wilbur said. "I had to put my family first, I want to make sure I'm a good dad right now."
Wilbur can still be found on the OCC campus. His new role at OCC is retention coordinator for athletes. He also does coaching for one of the schools at OCC which helps out non-athletes as well.
"Coach is a family guy, and he's got little ones, and I knew he was wanting a life that let him spend a little more time on the dad role," said President Crabill. Casey Crabill has been the president at OCC since 2013.
Wilbur was always known for leading his players.
OCC was going up against Nassau Community College, for the national championship. The day before, Nassau had blocked the entrance of the field so Community College of Baltimore County Essex (CCBC Essex) couldn't walk onto the field. CCBC Essex had to go around a different way to get into the game, because Nassau players weren't letting them in. Villano said if that happens to them the next day he's going crazy.
"Whatever you do, stay calm, don't get our players wilded up. We can't put our players in a situation that could get out of hand," Wilbur said.
Villano agreed to not go crazy if that happened. The next day OCC walked out to take the field, and Nassau was lined up at the gate like the day before against CCBC Essex.
"All the Nassau players were locked up, 42 kids deep in rows yelling and hollering," Villano said.
Wilbur was in the front of the line guarding his team and protecting them at all costs. The Lazers broke through barrier, didn't look back, and defeated Nassau for the national championship.
"It was absolute mayhem," Villano said.
Villano was in the back, because Wilber told him the day before he had to stay calm if this happened.
"So much work and time is put in everyday and sometimes it just comes down to one moment, and how you react in that one moment. It's what makes a coach successful or makes it his downfall. What are you going to do when the battle is at its highest peak? Are you going to fold or are you going to take it head on? Chuck and the team running through 42 kids with no gear on together set the tone for the game. We killed them that day. He knew when to fire kids up at the right moment, and knew when to calm them down," Villano said.
Wilbur had a successful run at OCC.
"He's a man of character, if he tells you he's going to do something he's going to do it, that's what has led to his success," Villano said.