The date was May 23, 2019. It was finally Sarah Yensan's time to shine on the biggest stage in college sports as she steps up to her mark on the runway. Three of her previous five meets, Yensan sported the gold on the podium in the long jump event and had certainly built up momentum. Although, this meet wasn't just a mid-season invitational with Cortland or Rochester Institute of Technology. This was the NCAA Division III Outdoor Track & Field Championships.
In her previous three meets, Yensan had jumped over 18 feet but she would have to have an outstanding mark to be on the podium. After three clean jumps, Yensan's best mark was 5.45m (17'10.75") which placed her in the top 20 in the country and while just getting to nationals is a major achievement on its own, Yensan wanted more.
As she and her coach, Curtis Merrick, left the 2019 NCAA Division III Outdoor Track & Field Championships, they had a short conversation on the way from the track to the car.
"You know what the next goal is right?" Merrick asked as the two of them slyly made eye contact.
With everything they worked towards, competing at nationals was the first step but it wasn't enough. She was determined to make her next year…her last year…the best one yet.
"Next year," Yensan exclaimed, "I have to medal and become an All-American."
Before we continue, let's rewind about eight years into the past when Sarah Yensan began her track and field career. Her parents, Sue and Jeff Yensan raised Sarah in Lockport, New York located about thirty minutes east of Niagara Falls. It was in the seventh grade when Sarah began running and pursuing athletics but that wasn't the only sport on her radar.
"She was a soccer player at the local sports center called the Kenan Center," explained Sue Yensan. "She was really good at soccer and I think it in the eighth grade when she started swimming."
Although Sarah was a three-sport athlete, it was clear that she was most skilled on the track holding the long jump records for the seventh, 10th and 12th-grade classes. Yensan also holds the indoor long jump school record proving that she made the right decision to pursue track and field.
As she continued to make a name for herself on the track, Yensan would do the same in the classroom being named a scholar-athlete all four years of high school. Her athleticism and academic standards certainly caught the attention of some college programs in the area and it was clear that she could take both to the next level.
"She applied to several schools and the [Oswego State] track coach was really pursuing her," said Sue. "She was interested in the courses they were offering there but I really think the track coach had pushed her to go to Oswego. He had promised her by the end [of her career] she was gonna get to 19 feet."
Before college, Yensan never had a specific coach for jumping. Everything she learned during her tenure at Lockport High School was taught to her by the upperclassmen on her team which made her achievements that much more impressive. To think about what a tremendous difference having a coach would make even though she still set school records is remarkable. Yensan and her family now thought the sky was the limit.
Among all the excitement transitioning from high school to college, Yensan trusted her soon-to-be coach, Derek Rousseau, to help her get to the promised land. Although, as quickly as things came together, they fell apart when Rousseau elected to leave Oswego State after Sarah's first year.
"My freshman year was a joke, to be honest. It was anything but good," said Yensan as she reminisced with a chuckle. "I jumped 18'3" in high school and that was the best I have ever done, so coming to college, I was excited to do so much better. And then I get Derek."
It was at this point in the conversation that Sarah slightly clenched her teeth and explained how much Rousseau changed her technique, almost to the point of failure.
"He completely stripped everything. We redid everything I have ever learned and my first meet I am pretty sure I jumped 15 feet. I didn't get back into 17 [feet] until outdoor SUNYAC's. I had never jumped this bad in my entire life."
After having everything she knew as a jumper stripped from her basket of knowledge, Yensan was now miles behind when she arrived in Oswego. Luckily, Curtis Merrick, a former All-Conference SUNYAC track and field athlete, stepped in to fill the role of her coach, ultimately becoming her savior. When Merrick arrived, his first goal was to get her back to 18 feet and become more comfortable with a new and effective approach.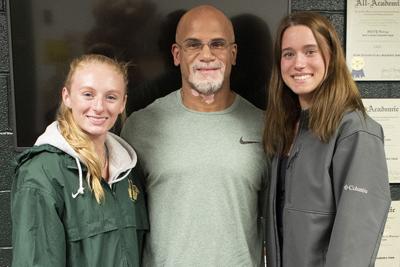 "Curtis was a godsend for her," Jeff Yensan expressed. "In hindsight, he was somebody who really worked well with her and gave her a lot of his attention. It worked out really well."
Merrick arrived during Yensan's sophomore campaign and originally, she and her parents had thought they made a mistake by choosing Oswego State because the coach that recruited her had left. But Merrick is no ordinary coach. He prides himself and his athletes on proper weight training as a basis for the explosive skill set that a sprinter or a jumper must possess. Yensan, who had mentioned that she "never lifted a weight in high school", was thankful that she finally had a coach to help her get to the next level. With the proper training and guidance, Merrick knew that Sarah had the potential to achieve her long-awaited goal of 19 feet and beyond.
"I had a feeling she could become an All-American," Merrick said. "That was the ultimate goal. Keep working and getting better and eventually become an All-American."
During her junior year, Yensan had basically hit a wall. Although she was happy with how she was progressing on the track, there were other things weighing on her mind as a student-athlete. Managing workload with athletics and the social aspect of the typical 'college life' is a difficult thing to do at any level of the NCAA. Just as an idea of how difficult it is to balance life as a student-athlete at the collegiate level, Sarah gave the rundown of an ordinary day during track season.
"My junior year, fall semester, I had three classes back to back to back starting around 9:00 a.m. Then, I would go straight to Laker [Hall] and I would do treatment and stuff and then we would have practice for three and a half hours. Then I would shower at the facility and go straight to work until midnight. I would get home at like 12:15 a.m. and still have all my homework to do. I would go to bed at 3:00 or 4:00 a.m. and then repeat the same thing every day."
Being a collegiate athlete is difficult in itself, but being a collegiate athlete who studies Earth science deep into the night after a late shift at the dining hall is an arduous responsibility. Most adults who do their nine to five probably don't experience the same type of stress that Yensan experiences in one day. She joked about pulling " all-nighters" and how it was "unhealthy" for her mentally but doing the typical 'college life' as an athlete is far from typical. No matter what level they compete at, collegiate athletes have incredibly stressful lifestyles and they need to get more credit for it especially at Division III.
At the conclusion of her junior year, Yensan was determined to work hard in the offseason and come out strong for her senior year. This season, her goal was to become an All-American and without a doubt, she was on her way.
In her first meet as a senior, Yensan jumped 18'0.5" good enough for fourth place at the Brockport Season Opener in early December. As the season progressed, she hadn't really seen much improvement in her jumps considering her mark fluctuated over and under 18 feet. That was until the next time she returned to Brockport and almost jumped right out of her track spikes. Just one meet after claiming first place with a distance of 18'3.75" at the Pioneer Open, Sarah was spotted at 19'0.5"–a personal best–and had out-jumped the rest of her opponents by at least five inches.
After the Brockport Multi, Yensan would go on to place first during the next three meets in a row, including the SUNYAC Indoor Track and Field Championships and the AARTFC Indoor Track and Field Championships, giving her a hot streak of five gold medals in a row. Her jump of 19'0.5" also slotted her a spot at the 2020 NCAA Indoor Track and Field Championships while ranking her fourth in the nation for the women's long jump entering the meet.
Sarah thought back to her first time at an NCAA Championship and knew that it was rough but she was confident that her second trip was gonna be a breeze.
"The first time I went to Nationals it was just a joke," she said, as it becomes clearer that her favorite way to describe something bad is 'a joke'.
"I was so nervous and I don't really get nervous for track meets, but I get nervous the first time I go [to the] big meets. The second time I go there I'm fine, but I just had to shake all the nerves out."
Sarah had shaken all the nerves out of her system by the time she got to the track in Winston-Salem, North Carolina and it was pretty apparent to her coach as well. Merrick knew Yensan was fired up and ready to compete and could tell she was going to perform well the next day at the meet.
"When we got down to North Carolina everything was looking really good when we had our practice Thursday, the day before the meet. Everything looked spot on. Her approach and mark on the board. It all looked great. I had a feeling she was gonna do something big."
The script was written. Sarah was ranked fourth in the nation and soon to be an All-American as she returned to the hotel that afternoon. Yensan and her fellow senior, Cat Burke, were in their room when at 4:07 p.m. the notification popped up that March Madness basketball was canceled as well as winter and spring NCAA championships. Yensan wasn't too thrilled as her dream of becoming an All-American had now been crushed by the COVID-19 outbreak but she just didn't want to believe it yet. At least until her coach knocked on her hotel room door.
"We already knew stuff was brewing," Merrick stated. "I am sitting there in my bed and I see on the tv and my phone everything was canceled across the board. All divisions and all sports for the remainder of the season. At that point, I walk around the corner to Sarah and Cat's room and I knocked on the door," Merrick stops and takes a breath. "Sarah opens the door and I couldn't say anything," he pauses again. "I–I was just frozen."
"What is it?" questioned Yensan with urgency.
"I still couldn't speak," expressed Merrick. "And I think at that point…she knew."
Imagine training all season and finally being able to summit the mountainous task of becoming an All-American and then you are told to go home. Your season. Your career. Over.
"It was completely devastating," Sarah said. "When I opened that door [and saw] Curtis' face I just felt everything sink."
March 12, 2020, marked the end of Sarah Yensan's track and field career among thousands of other athletes around the world. At least, that is what they thought.
According to Yensan, over the next couple of weeks following the early departure from Winston-Salem, Merrick sent a text to her almost every day still bewildered by the circumstances. This could have been the day Sarah became an All-American and fulfilled the goal she had set almost a year ago. Now, two months later, Yensan prepares for her last week of finals as an undergrad but looks toward the future carrying a glimmer of hope.
With the NCAA granting Division III spring athletes an extra season of eligibility, Yensan now has a new task on her mind. She wants to pursue her Master's at Oswego State and hopes to get accepted into the Adolescent Education program as she plans to teach Earth Science in the future. Although, that isn't the only thing she plans to do during her next academic year.
Sarah will be eligible to compete for one more season in the spring of 2021 and hopefully pick up where she left off. That daunting task of becoming an All-American just got a lot tougher but as long as Yensan gets accepted to her Master's program, nothing will stop her from achieving that goal.