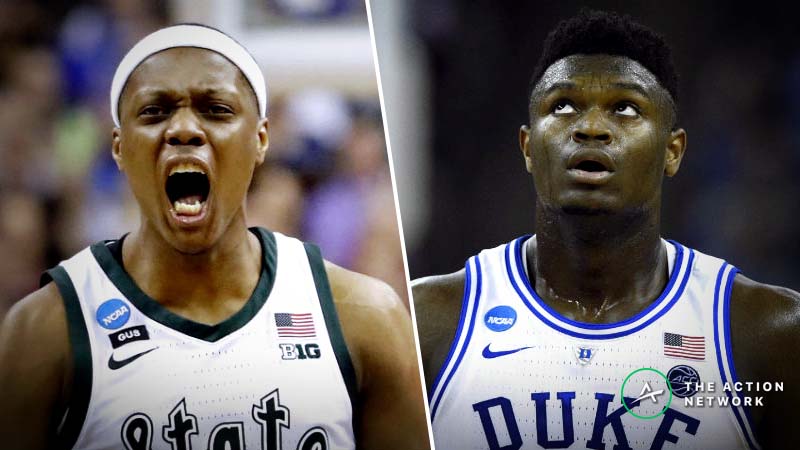 With Michigan State's thrilling Win over the top seeded Duke Blue Devils, I can officially say they are my new favorite team in college basketball (for the remainder of this season)! It's cool that Auburn made school history going to it's first and final four and all, but come on. The Spartans just took down the most talked about team in college basketball, who were a huge favorite to win it all! Spartans point guard Cassius Winston was as methodical and strategic as Cassius Clay in this one. He rattled off a nice double-double of 20 points and 10 assists. He is definitely my new favorite player in college basketball.
I had picked Gonzaga to win the whole thing, and after they had taken a disappointing loss to Auburn, I was in total panic mode that Duke was going to take it all as most people have said to me, but Michigan State saved the day. There was no greater feeling than when freshman sensation RJ Barrett missed one of his two free throws in the final seconds of the game to tie it up, but Michigan State red shirt senior Kenny Goins hitting the dagger 3-pointer was a close second. There's no player I'd rather see hit that shot in this game. Goins is playing his final season with the Spartans. He was on the last Michigan State final four team, and he's now in pursuit of his masters. Pretty inspirational if you ask me.
Michigan State never took their foot off the pedal in this one. Responding to any scoring run Duke went on with a run of their own and kept that same foot in your neck mentality throughout the entire game. After Syracuse lost to Baylor, this was definitely the most meaningful game of the college basketball season to me. Spartans, you have my full support the rest of the way. I now hope Michigan State can ride this electric momentum into the next game, and even win it all.